Back
Backify 2021 Summary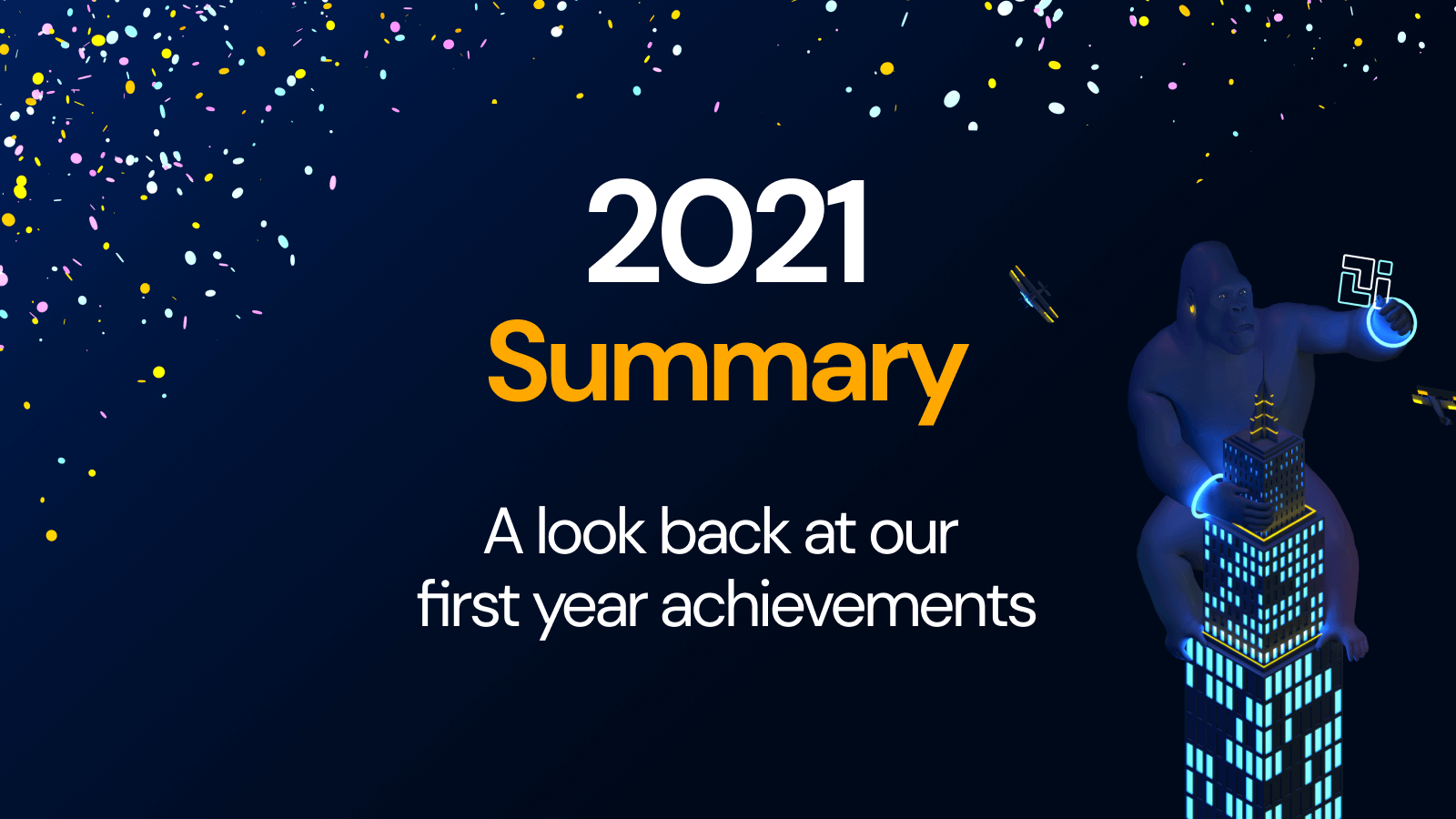 We had an amazing year here at Backify, and are happy to have hit the majority of our targets throughout 2021. With the year drawing to a close, we are all ready for another great one!
As to be expected with every growing company, there have been bumps along the road but we are very pleased with how early we have accomplished larger goals, our team certainly has a lot to be proud of. We did very well to lay the foundations of the company in terms of the team, brand and product.
Let's take a look at what was accomplished!
Major Milestones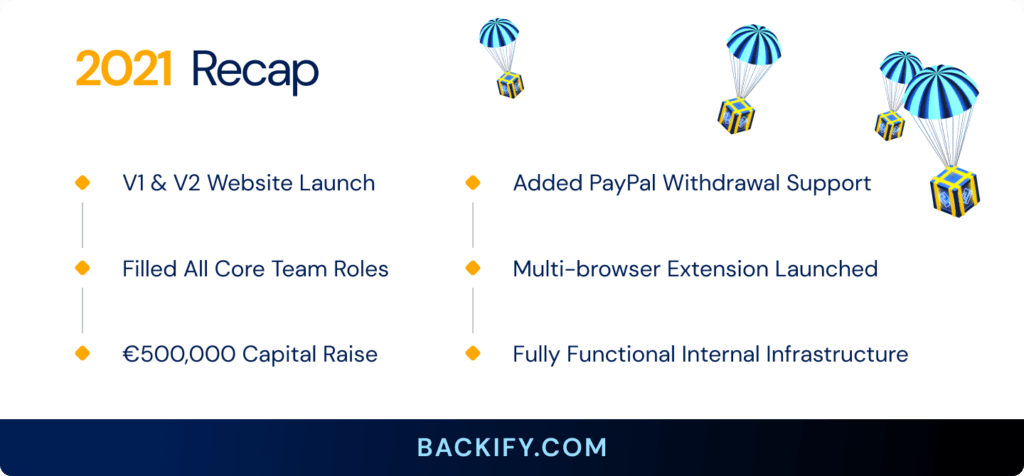 Company Growth
We have been focused on establishing workflows and increased productivity over the last quarter. Proudly, we can say that we have delivered on the majority of our plans. This is partly due to the introduction of industry-standard tools to help with teamwork, along with some hard work and dedication.
Growing from a team of five in April to a team of 10+ leaping into the new year, we have added talent to our Marketing, Development, and our Customer Support teams.
It is very important to share that we have put huge resources into developing the infrastructure of Backify, this includes all our APIs and Admin Panel for staff to use on a daily basis for example. We were able to implement much more automation than we initially anticipated which will help us offer a faster and more reliable service, from the business side this also helps us to streamline activities and reduce costs.
Product
There are now a combined total of over 2900+ stores across our three supported regions. With this number growing daily. Our list of big brands has grown exponentially over the last quarter. With names such as Adidas, Asos, Nike, Booking.com, Reebok, Nike, Acer, Samsung, HP, Philips, Crocs and many, many more.
A wide range of updates have been made to the web platform with more exciting projects still in development. New pages arrived such as FAQs, Contact Us, Homepage as well as success screens for browser extension installs and successful cashouts. You will notice some new popups and dialogs with the aim to streamline user experience. This work will be ongoing into Q1 of 2022, ensuring the platform is even more user-friendly and inviting. We welcome all bugs reports and feedback here on Telegram
It's now a lot easier to contact our customer support. To improve our user's experience, we have integrated an autonomous support ticket system. And introduced a live chat service that is available from 9am-5pm UTC, 7 days a week. Alternatively, we have launched a number of Help Articles and Step-by-Step Guides to browse.
You will notice we have made improvements to our browser extension interface. You can now add the browser extension to Firefox and Edge as well as Chrome. Creating an effortless and automated shopping experience for a growing number of users.
We have also been working hard on expanding the cashout options available to you. In Q4 we implemented PayPal for those who would like to withdraw their cashback in fiat (USD, GBP, SEK), this service will become live to all users in the first week of January.
Marketing
Our team has been busy testing paid Facebook and Google ads. With the newest member of the team compiling and analyzing our data, we have been able to take a data-driven approach to our marketing. Tweaking our ads to make sure that they are cost-efficient, and maximize conversion. In the last quarter, we have seen an improvement in the conversion rate of paid ads by over 100%. While we have seen our social media following grow. We have just started and have big plans for 2022 with a Marketing Strategy being solidified.
Towards the end of 2021, we began re-designing the look and feel of the entire platform, email funnels and browser extension. We are happy to announce that the new email automations and designs are now live!
Outro
There is a huge amount going on behind the scenes, and we have more goodies lined up to be delivered in Q1 2022! We want to wish our growing community and shareholders a Happy New Year's from everyone here at Backify. Keep your eyes peeled for our Q1 2022 Roadmap to see what the New Year will bring!
In the meantime, install our browser extension and get saving!
---
Related articles: Cashback websites: How do they work? • What is Backify? • Meet the Backify team • Backify equity sale
---
Last updated: December 31, 2021 by The Backify Team