Back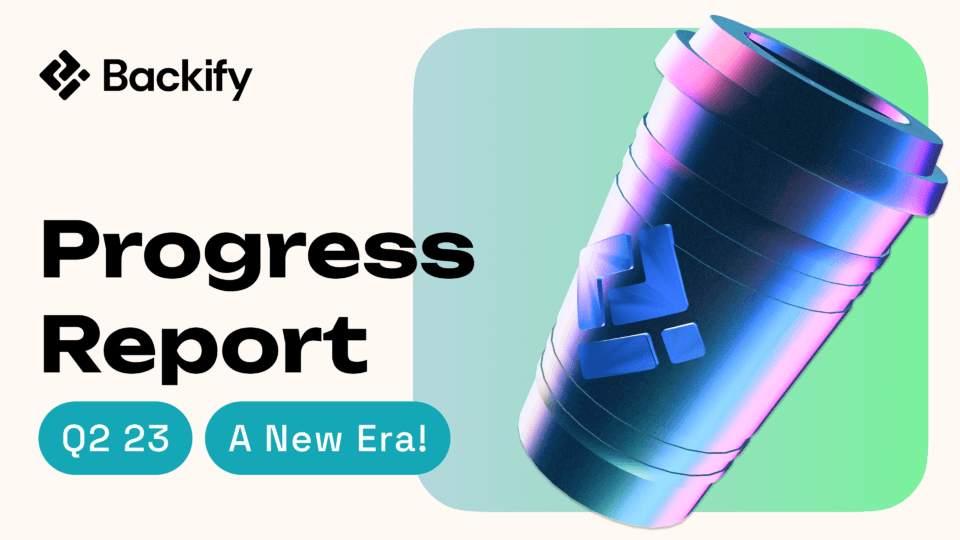 Backify progress report: A New Era!
The last quarter was packed with activity. The team has been building solid foundations in preparation for company expansion in all areas; setting us up for a very successful year to come so we wanted to share with you Backify progress.
The building phase is a vital part of any startup journey, however, we are excited to enter the growth phase now and take strides to expand rapidly. There will be more exciting and engaging updates to share with you.
Becoming a world first!
Backify became the world's first cashback site to partner with a regulated and licensed crypto exchange. Now our users can cash out their earnings in 50+ cryptocurrencies, with more on the way! For example, you can earn cashback in BTC (Bitcoin), ETH (Ethereum), QNT (Quant Network), KDA (Kadena) and many more.
We've teamed up with external agencies to enhance our online presence, experimenting with targeted audiences and paid ads to test multiple campaigns and bring in 10,000 new users. Our success with these marketing campaigns led to a surge in social media followers (25k) and website traffic (40k), reaching an all-time high in April. We can now focus on pinpointing these successes and multiplying our efforts.
Product & Service Updates
Our website has had a major facelift to enhance the user experience and make it easier to navigate. From new pages that guide our users seamlessly through the process, to improvements to the website's inner workings. We've made sure that Backify is easy on the eyes and easy to use.
We've improved operational stability and efficiency with new project management tools and processes, essential for our preparedness for rapid growth.
The referral program which launched in March was a huge success. Attracting more sign-ups, expanding our user base, and strengthening our relationships with both affiliate sites and influencers. Resulting in even more growth opportunities.
On top of this, last week we successfully launched Coupons on our platform. This new feature allows our users to save even more by combining them with our regular cashback offers. Having both options side-by-side sets us further apart from the competition and adds even more value to our platform.
Shaping up to grow
We are currently striving to improve our core services and boost our competitive edge by focusing on higher commission rates and offering more coupons to our users. Additionally, we aim to close the gap by introducing even more top brands found on some of our competitor's sites. Despite already having over 3,600 stores, we believe that these efforts will help us better serve our customers and continue to progress and grow Backify.
As part of our long-term strategy, we are actively preparing for entering new markets and catering to new audiences. This involves conducting thorough market research and analysis to identify potential opportunities and challenges in these new markets. While gaining a deeper understanding of the needs and preferences of our target audience.
Additionally, efforts are being made to procure alternative and attractive cashout methods.
Growth and Marketing Overview
We have now hired top talent in our Marketing Team to bring all Marketing in-house. Our Marketing Manager joined in March to lead our talented team and has brought with her a wealth of experience in the cashback and affiliate industry. We also brought on a Digital Marketing Manager who has taken over from agencies and will expand our reach with new campaigns across alternative channels. With a comprehensive and aggressive strategy, we are committed to growing fast in 2023.
Our team is diving deep into the SEO performance of Backify, with confidence we can bring large organic traffic. We believe that continuous updates and staying on top of new trends are paramount to the future success of the company.
We are actively working on building brand awareness as well as enhancing our company branding as we recognize the essential role they play in the success of our business. With this, we will increase our visibility among our target audience, establish a strong reputation, and foster trust and loyalty with our customers.
Expanding our marketing team and investing in product development for new features have been identified as crucial areas of focus for our business growth. By working on these we aim to enhance our competitiveness, attract new customers, and retain existing ones which will sustain business growth and success in the long term.
Fundraising Plans
We will be seeking to raise 3mil as we move into the next phase of our business journey, we are seeking additional funding to support our growth and expansion. This is a great opportunity to be part of a well-organized, experienced and ambitious start-up with the security of "seeing before you buy" so to speak. All of the moving parts are there for you to see and use. With the highly functional, user-friendly platform in place, continuous relationships being built with stores, and a talented core team, we believe that now is the right time to seek further investment to ensure our continued success.
Lean operations and effective workflows will continue to be prioritized, supported by a highly scalable infrastructure. Hiring core roles in marketing, and product development. With the new funding, Backify will be well-positioned to progress and achieve our growth targets.

50% of funds towards growth and marketing initiatives & expanding our user base.
30% towards development, bringing in-demand features are planned. Including mobile app.
20% will be allocated to operations, ensuring we have the resources we need to deliver for shareholders and users.
Expect even more value from Backify in the second half of 2023 as we're excited to progress and share that we'll be rolling out new services to enhance your cashback experience. Keep an eye out for coupons, which will give you access to exclusive discounts and deals at your favorite stores.
This is just the beginning – there's more in store at Backify, and we can't wait to share it with you!
Contact our CEO Oliver Goble: [email protected]
---
Related articles: Cashback websites: How do they work? • Backify browser extension has arrived • Meet the Backify team • Backify equity sale
---
Last updated: May 16, 2023 by The Backify Team