Back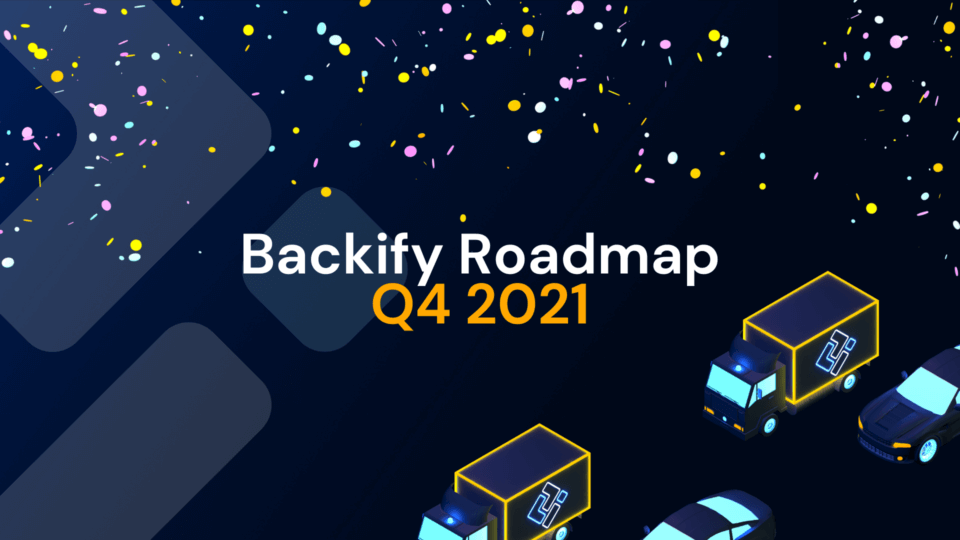 Backify Q4 Roadmap 2021
Continuing the Amazing Journey!
Another quarter down at Backify and we are picking up the pace! Busy is an understatement when it comes to describing the amount of work that has gone into Q3. As to be expected with every growing company, there have been bumps along the road but we are very pleased with how early we have accomplished larger goals.
It has been a successful quarter as far as expansion and growing our core team with industry experts.
Introducing the Backify Q4 Roadmap!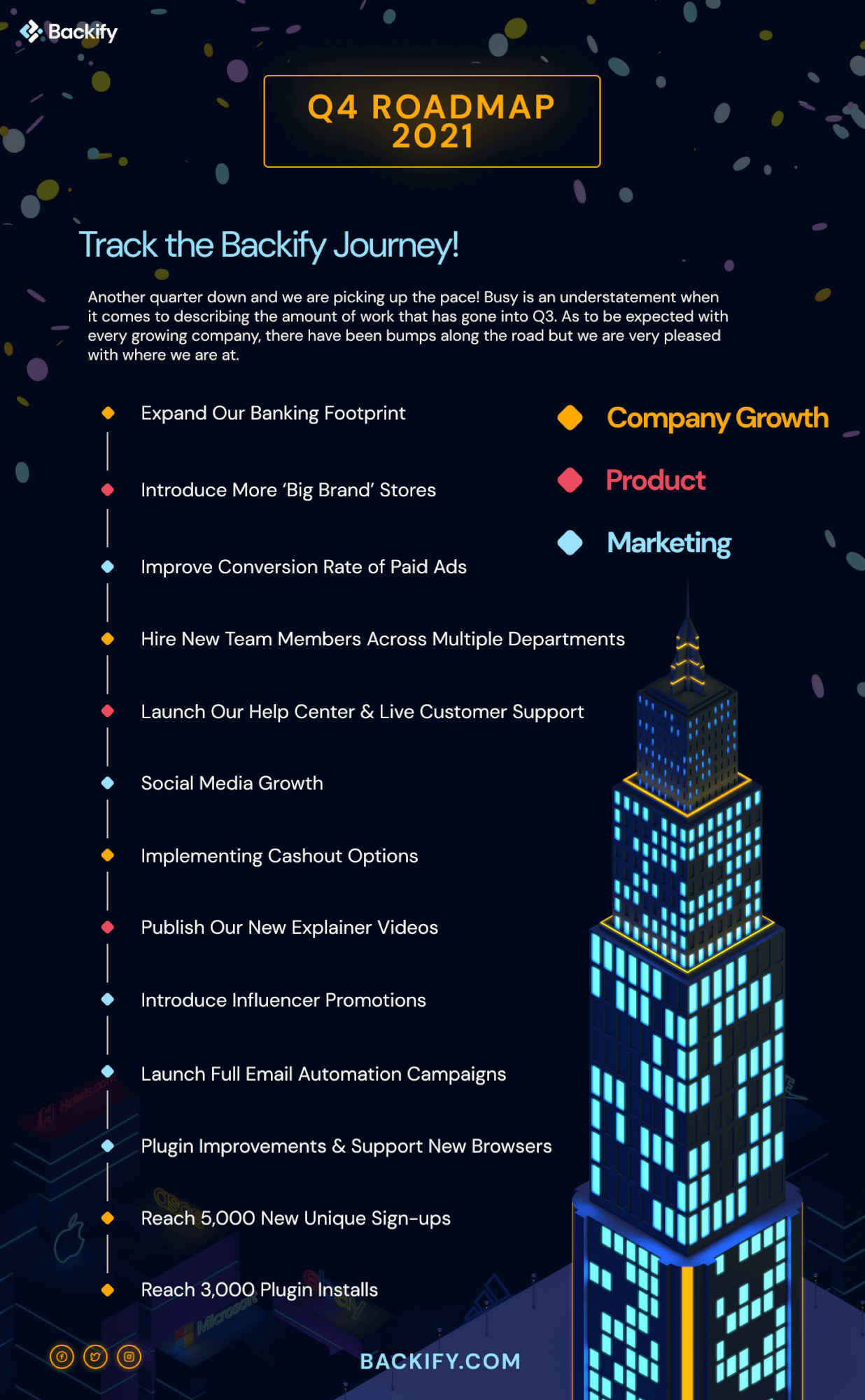 Company Growth
The Backify team have been focused on improving workflow and productivity over the last quarter, introducing industry-standard tools to help the team work effectively and deliver on all our plans.
We have now established a number of banking partners and payment service providers which will help us with handling FX risks and costs as well as ensuring our cashout services are as smooth as possible.
With a combined total of 2500+ stores across our three active regions, we have been introducing a variety of big brands along the way. With this number growing daily, our aim is to expand this further. Introducing more 'well established' stores which we believe our users will enjoy.
Growing from a team of five in April to a team of 13 going into Q4, we have added to our marketing, development, and our customer support teams. In the coming months, we are looking to expand further. We are currently recruiting an Affiliate Partner Specialist and more Customer Support Officers. In addition, have built great relationships with a design agency and development team to help deliver on new projects.
Marketing
We are really excited to have brought on board a great marketing agency. Working side by side with them to produce our email automations as well as testing paid Facebook and Google ads. Our email automations are a work in progress and should be up and running in the next few weeks. The structure will evolve into a hybrid relationship with our in-house team taking the lead in 2022.
The marketing department has been busy mapping out a plan for the next quarter. So keep an eye out, you will be seeing a lot more activity. We now have a member of the team who is tasked with compiling and analyzing our data. With a data-driven approach to marketing, we will be able to remain agile, cost-efficient, and maximize conversion.
The plan going forward in Q4 is:
Focus on social media growth, to improve trust and have features we can access
Strategically populating our blog with a variety of interesting topics
We are already reaching out to influencers to help with exposure
Refine our SEO to ensure maximize organic traffic long term
Product
Firstly, we have a wide range of updates coming to the web platform which are already in development, including new pages such as FAQs/Contact Us/Homepage, success screens for our browser extension install, and successful cashouts. There will be some new popups and dialogs to showcase the service more clearly and improve conversion rates. We welcome all bugs and feedback here on Telegram.
We are also making it a lot easier to contact our customer support by integrating an autonomous support ticket system. The launch of a live chat is coming soon, it will be available from 9am-5pm UTC, 7 days a week. To accompany this, we will also be publishing a number of Help Articles and Step-by-Step Guides. For the visual learners among us, a few Explainer Videos that will be sure to improve your shopping experience.
Over the last months, we have invested a lot of time creating what we believe will be the most efficient browser extension on the market. This will make for the smoothest cashback purchase out there. Creating an effortless and fully automated shopping experience. We will deploy this to new browsers such as Safari during Q4.
We have also been working hard on expanding the cashout options available to you. In this quarter we will be implementing PayPal and Trustly for those who would like to withdraw their cashback as fiat money (USD, GBP, SEK).
Keep your eyes open!
There is a huge amount going on behind the scenes, and we have more goodies lined up to be delivered this quarter! Thanks to our growing community and shareholders, and for anyone new to Backify. Enjoy the ride!
---
Related articles: Cashback websites: How do they work? • What is Backify? • Meet the Backify team • Backify equity sale
---
Last updated: October 1, 2021 by The Backify Team