Back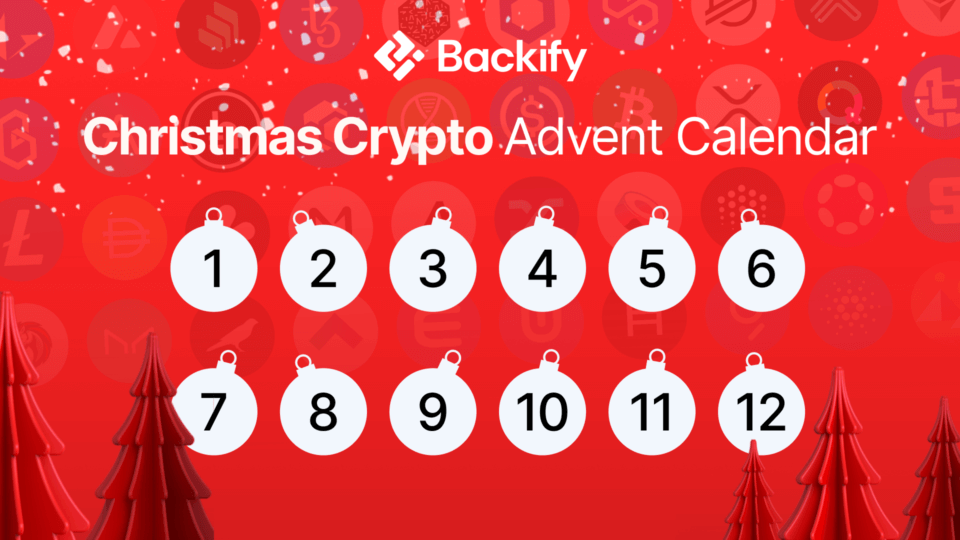 Backify Christmas Crypto Calendar
The countdown for Christmas has begun! To celebrate this year we have created a fun giveaway incorporating our new partnership with Coinmetro. You will have the opportunity to win different crypto assets every day for the 12 days leading up to Christmas.
For those who already dabble in crypto, this is a great chance to bulk up your wallet before the end of the year. If you don't already hold any crypto this is your chance to get started, with no risk on your part.
Each day a door from the Backify Christmas Crypto Calendar will open to reveal an asset and an amount…exciting right?! To enter simply follow the instructions in our daily Crypto Calendar posts on Twitter. We will announce all the winners on Xmas day, once the final prize has been revealed. Head over to Backify's Twitter now!

Don't forget that you could be saving money daily. All you need is a Backify account to start earning money when shopping online. Sign up today! Learn more about our partnership with Coinmetro.
Backify Christmas crypto calendar terms
The Backify Christmas Advent Calendar campaign will run for 12 consecutive days. It begins on December 12th, 2022, and ends on December 24th, 2022 (the "Entry Period"). Only those entries made during the Entry Period will be valid. A verified Backify account must be created by the participant before, or during the Entry Period to be eligible to participate in this campaign.
Participants must interact with the specific promotional material within the guidelines of the rules stated on each day of the campaign entry period to enter. Participants can submit a maximum of one (1) entry per each day of the campaign's entry period. Those participants that receive a reward are chosen at random from all valid entries for each day of the campaign.
It is possible for each participant to receive more than one (1) reward during this campaign should they submit numerous valid entries. No purchase necessary. Backify reserves the right to cancel or amend the campaign rules or entry period at any time without prior notice.
For more information and full terms, visit our help page.
Good luck from all of the Backify Team!
---
Related articles: Start the year strong: 5 New Year's resolution ideas • Backify January sale • Affordable ways to celebrate Valentine's day • Exploring easter egg traditions around the world • Budget-friendly Easter activities for families • How cashback websites really work
---
Last updated: December 10, 2022 by The Backify Team