Back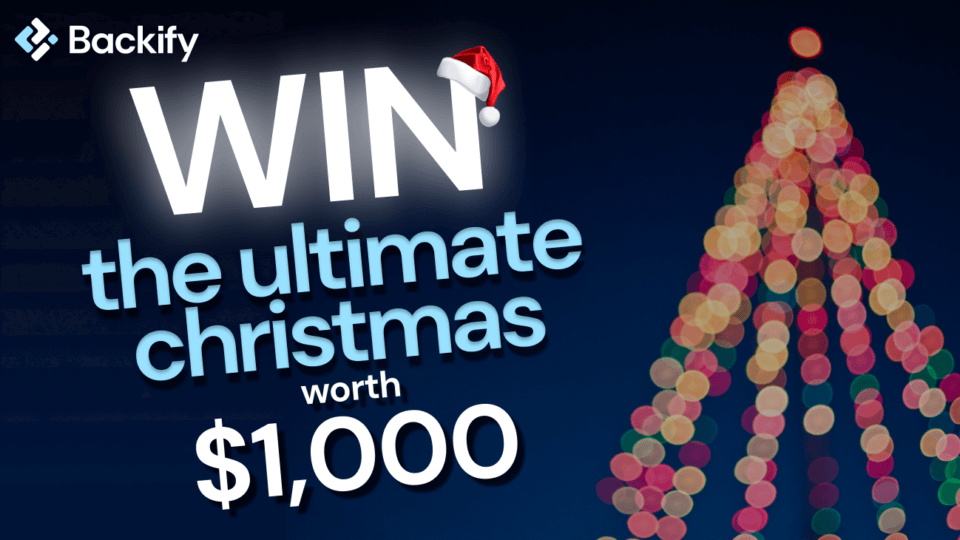 The Ultimate Christmas Giveaway
Christmas is approaching, and due to the incredible feedback we got back from our spooktacular Halloween giveaway, we have decided to level up and create a bigger and better giveaway! This is The Ultimate Christmas Giveaway…
Firstly… What is Backify?
Backify is a next-generation cashback site, which allows you to earn money whilst you shop. We are heavily focused on a smooth user experience and high-quality customer support. Serving shoppers from the US, UK, and Sweden, we offer our customers the possibility to cash out their earned cashback in their preferred currency (USD, EUR, GBP or SEK).
We want to make things easy for you when earning cashback on your shopping, so we went and created a browser extension that alerts you when you are on a website that gives you cashback! How cool is that?!
The Prizes
You read it right. We are giving one lucky person $1,000 worth of gifts for Christmas! But we're not stopping there… we are giving money to 10 lucky runners up – all in time for Christmas!
The Grand Prize
1 user will receive a $1,000 Christmas bundle including goodies, games, gadgets, and clothing! (cash alternative available)
The Runners Up
10 users will receive $100 credited straight into their Backify accounts for you to withdraw in time to use for Chrismtmas!
The Rules
Winners will be chosen at random from our user database, but in order to secure your entry, you must follow ALL of the steps set out below:
1. Create your FREE Backify account  – Create an account here
2. Log in and Install our user-friendly browser extension to make sure you never miss a cashback opportunity again! – Install our browser extension here (make sure you are logged in to your account when doing this)
3. Share the social media post with your friends and family to give everyone a chance to win this Christmas.
The giveaway will be running across Facebook, Twitter & Instagram so we recommend that you follow all three to avoid missing out on any further information.
For more information, check out our giveaway Terms & Conditions.
HO! HO! HO!
If you've read this far, you are in for a treat! Not only are we taking the role of Santa Claus this year, but there is more…
…we have intertwined another giveaway for everyone that installs the browser extension! The rules are simple and explained fully in the blog below:
You don't want to be the one that misses out on this…
Merry Christmas to you all, and good luck!